🌳Sustainable Podcasts🌳
Sabine McKenna writes: I've been listening to a lot of podcasts. While on a train. While walking. While in the garden. Folding laundry. Packing a suitcase before going away. Doing the dishes. And many of them have recently been sustainability-focused. Here's a few that might be of interest to others, too!
Podcasts are on-demand audio programs that you can usually listen to on a website or through a podcast app.
If you're on a phone, listening through an app is easiest. I use Podbean, my family are more on PodcastAddict; Spotify, Google Podcast, Apple Podcast are others.
Many podcasts are also available as videos, most often on YouTube – great for those who prefer watching to listening!
By the way, there's a monthly Sustainable Chat Club here in Skerries which involves the host(s) picking a podcast or two, or a video, to which we listen and about which we then talk. If you're interested, send an email to SustainableSkerriesNewsletter@gmail.com !
My Top 3 Choices: Podcasts with an Eco Twist
The Rich Roll Podcast: We Can Solve Climate Change
Website: https://www.richroll.com/podcast/paul-hawken-473/
Podcast: Rich Roll Podcast # 473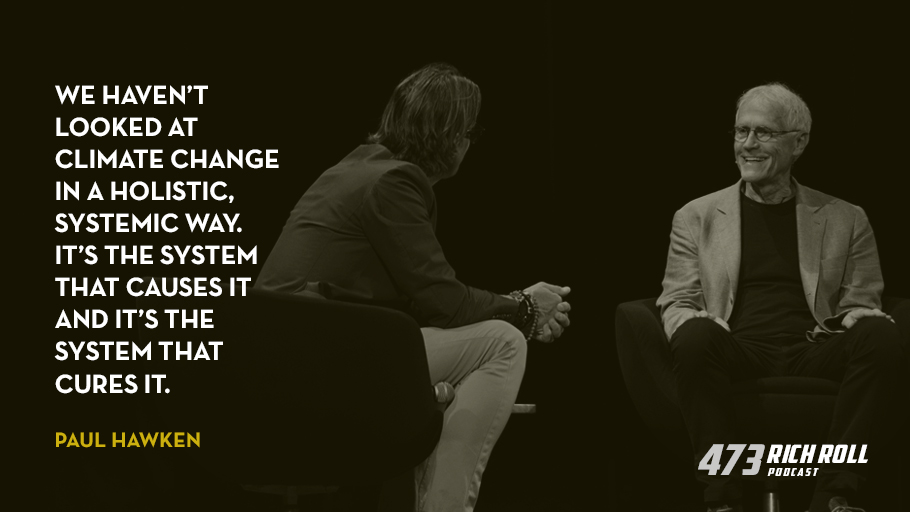 Climate Change can be solved.
Paul Hawken talks about how in his book: Drawdown: The Most Comprehensive Plan Ever Proposed to Reverse Global Warming. Google it.
Paul Hawken and his team of researchers have looked at the proven ways. Guess what the top three are. Then listen. Or take a look at the top 10 here if you don't want to listen to it all…
Rich Roll is an American podcaster who loves the "long form" podcast. He does in-depth interviews which I find very good for long slow runs, or an extended session in the garden. Here's a bit of his bio:
A graduate of Stanford University and Cornell Law School, Rich is a 50-year old, accomplished vegan ultra-endurance athlete and former entertainment attorney turned full-time wellness & plant-based nutrition advocate, popular public speaker, husband, father of 4 and inspiration to people worldwide as a transformative example of courageous and healthy living.
Mothers of Invention: You probably have everything you need.
Fashion and climate. Who would have thought that the former president of Ireland, Mary Robinson, was going to co-host this really entertaining as well as educational podcast! She and her co-host, comedian Maeve Higgins, talk about different climate change topics to (mostly) women from around the world.
Season 2 – Episode 8is of particular interest to those who want to be more considerate when it comes to fashion and the environment.
From the show notes:
As a result of long supply chains and energy intensive production, the fashion industry is now the fifth-largest polluting sector in the world constituting 10% of global greenhouse gas emissions. In this week's episode, we take a look at the $2.5 trillion dollar industry to explore the potential of a triple bottom line: people, profits and planet. This week's guest host is Vietnamese-born, Thao Vu, an eco-fashion designer and founder of label, Kilomet109. Her return to traditional dying practices, handmade silk production and waste management is opening up conversations on how to rethink what we expect from our clothing. And Céline Semaan is a Lebanese-Canadian sustainability literacy consultant and educator for the fashion industry based in New York. She talks us through the concepts of slow fashion and circularity, and whether it really can affect change in the industry.
Green Dreamer: Restoring the New York Harbor to the thriving marine ecosystem it once was (Interview with Murray Fisher of Billion Oyster Project)
In this podcast episode, Murray sheds light on why restoring oyster reefs will be a crucial step towards restoring the New York Harbor to being one of the most ecologically diverse marine ecosystems as it once was; the power in leading restoration and rewilding projects in the heart of urban landscapes as opposed to in more remote regions; and more.
I love this episode for a number of reasons. It shows wonderfully how environmental challenges can be tackled if people and communities work together. It stresses the importance of education and portrays a very different high school. It is about New York, one of my favourite places on this planet. (Don't ask, I don't know myself why that is the case.) And it shows how step by step, a huge project can grow.
Green Dreamer? A very well-produced, easy-to-listen-to podcast that even has an "onboarding" program for those new to it, with daily emails that point you in the direction of those podcasts that might be of most interest to you. And given that there are now 195 episodes, that is a very helpful offer!
By the way, the latest episode seems highly interesting, too (I haven't heard it yet): Creating community gardens in food deserts to improve access to good health (Interview with Rob Horton of Trap Garden) I think I'll have to go on a long (podcast) walk tomorrow…
Are you a podcast or vlog fan? Do you have favourite TEDx talks or YouTube videos that you think we should feature here? Please send an email to SustainableSkerriesNewsletter@gmail.com with your ideas – and maybe you'd like to join us for the next monthly Sustainable Fireside Chat? Same email address!