Our food, our environment, our health
An online evening with Darina Allen and Karen Power: 24 June 2020, 7 p.m. via Zoom.
There is so much talk about food, nutrition, agriculture, the environment, our climate, our health… we are all aware that we ought to do something. As individuals, as those buying food, as those preparing it for others, as those growing it. As parts of our community and as citizens.
But what actually can make a real difference? What are the things we ourselves can do?
Our two speakers will address these questions from different angles, and then all will have the opportunity to add and react to their inputs.
We are delighted to have Darina Allen, well-known chef, author, and presenter of television programs, for the overall perspective, and Karen Power, Skerries resident and Green Party Councillor, for a focus on what we in Skerries can do. See below for more about our two speakers!
And go to SkerriesFoodEvent.Eventbrite.ie to reserve your space.
Through this event, we of Sustainable Skerries hope to ignite the debate around our local food web, the environment, and our health.
We have to limit the number of participants to 90, so reserve your (free) space as soon as possible!
This event is free. If you like, you can make a donation to Sustainable Skerries, which we will then pass on to Darina Allen for her chosen charity, the East Cork Slow Food Educational Project which raises money to educate children from nine local primary schools on sowing seeds, keeping chickens and teaches them how to cook using fresh seasonal produce.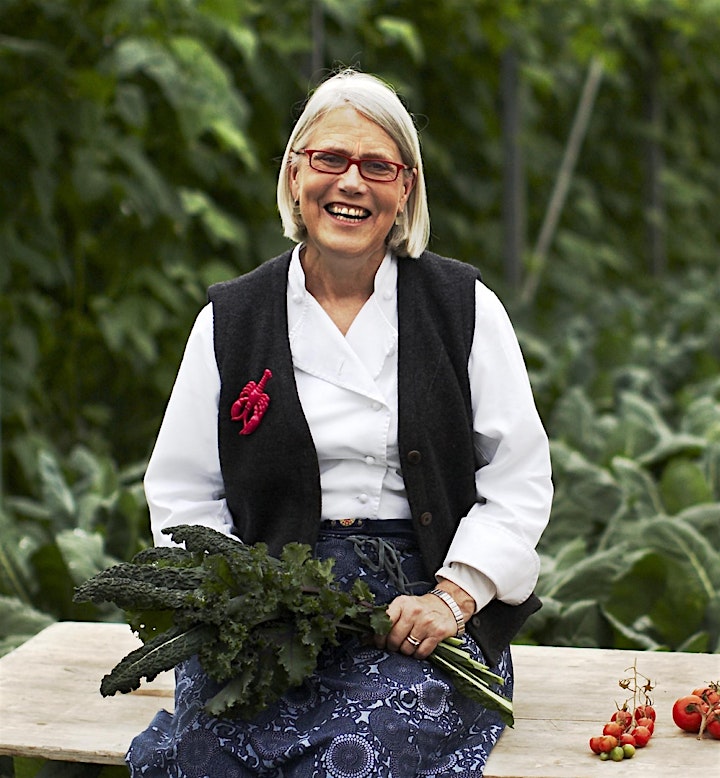 Darina Allen: a well-known chef and author of 19 cookbooks and presenter of 8 series of 'Simply Delicious'.
Co-founder of the famous Ballymaloe Cookery School in the midst of a 100-acre organic farm in East Cork in Ireland. Students come from all over the world to hone their culinary skills at this sustainable, farm-to-table project, est. in 1983. The family hotel, Ballymaloe House has been the recipient of numerous awards for its seasonal, local and home-grown food and hospitality.
Some of Darina's awards include:
March 2020 – One Pot Feeds All won a 2020 World Gourmand Cookbook Award in the Cooking School/Education Section
September 2019 – Garden Café Food Truck awarded the Georgina Campbell Irish Food & Hospitality Awards 2020 – Street Food of the Year
May 2018 – Grow, Cook, Nourish won the 2018 Gourmand World Cookbook Award
May 2018 – Darina received an Honorary Fellowship of the Dublin Gastronomy Symposium (DIT) in recognition of a lifetime's dedication and work promoting Irish gastronomy, food history and culture.
Guaranteed Irish Food Hero Award 2018
November 2014, 'Outstanding Achievement in Business Award' by the Cork Chamber of Commerce
February 2014, Darina won the 'Best Professional Author & Chef' category of the WORLD GOURMANDS for the UK for '30 Years at Ballymaloe'
May 2013, Darina won The Guild of Food Writers (UK) top accolade, the 'Lifetime Achievement Award', for her incalculable contribution to culinary education.
"Forgotten Skills" won the André Simon Food Book of the Year, 2010
She holds many positions in leading food organisations including:
Chair of Artisan Food Forum of Food Safety Authority of Ireland
Trustee of Irish Organic Centre
Patron of Irish Seed Savers
Member of Eurotoques (European Association of Chefs)
Member of the Guild of Food Writers in UK and Ireland
Member of IACP (International Association of Culinary Professionals)
www.ballymaloe.ie www.instagram.com/ballymaloecookeryschool/
www.instagram.com/darina_allen/
Karen Power, Skerries Councillor for the Green Party, Fingal County Council and a self confessed 'foodie', she is an advocate of sustainable and environmental friendly food production and considers access to healthy food to be a human right.
Karen believes that supporting sustainable local food production will contribute positively to our population's health and wellbeing, and support sustainable economic growth.
A mother of two young children she follows the principles of baby led weaning to instill a healthy approach, appreciation and understanding of food in children. She is a member of the Barnageeragh Cove and Hamilton Hill Residents Association and the Skerries Theatre Group and regular contributor to Skerries News where she writes a fortnightly parenting column.