The McNally Family Farm.
Shop Local & Get to Know Your Producers Series Part 1 
Where better to start than at the farm shop of a local organic farm for this new blogpost series! There, I can see what's in season (not always easy in a supermarket), and I know it's organic and low- to no-waste. Happy days!
Last Saturday, I drove over to McNally's Family Farm. The farm is in our very own County of Fingal, Balrickard, Ring Commons – just over 9 km or 15 min door to door. It was my fourth trip there.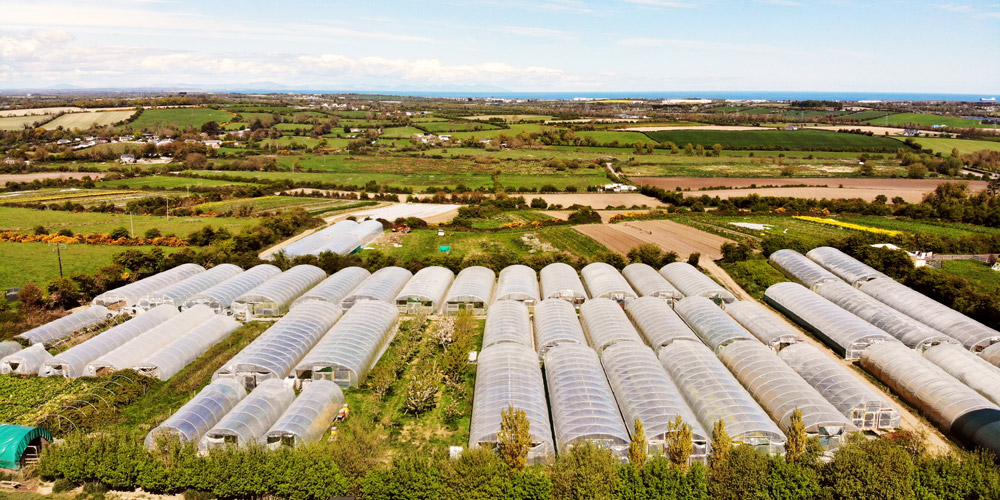 The first one hadn't been for veg at all: Having run out of rye flour in "early Covid" I had spotted that Dunany Flour, based in Drogheda, sell their organic, cold-milled flours in McNally's farm shop. At the time, you had to preorder everything from the McNally website, so I only added one or two other items to the flours and coffee beans (the Ashbourne-based Ariosa Coffee Roasting Company sells their coffee there as well). By the way, you still can preorder and prepay and then simply collect – or get someone else who is going anyway to collect for you, saving time and petrol.
Now that I know the place, and that it's reverted back to a farm shop that you can (safely, keeping your distance) walk around in, I try to go over maybe twice a month to get fresh veg (and stock up on flour and coffee).
This time, I treated myself to lunch there, too. The McNally family (five adult children have joined their parents in the business) are not only, as far as I know, the longest-established and largest organic farm in Fingal, they have also set up a Café with a few cakes, sandwich specialities, and wonderful coffee. I sat in their Covid-era compliant seating area which is covered, but practically outside. And while the lovely solid stone tables and garden-type seats are well spaced, I even managed to have a chat with the ladies on the next table – one of them, Freda, a producer of Irish herb teas, by the way, and the other, Denise, The Herb Garden personified! (I had bought seeds from Denise's Herb Garden in Sonairte a while ago, not knowing her, of course.)
The food was delicious, the coffee likewise, and while it's a pity that it was served in single-use plastic cups, I'm quite sure they were compostable ones. I'll ask next time if I can bring my keep cup, under Covid Era rules, that might not be that easy. I'll keep you posted.
Anyway, sufficiently fortified, I went to the farm shop in the large barn next door. You'll see from the photographs just how much was on offer.
I'm learning to go more with the seasons and to plan my meals around what is fresh and good and plentiful locally, rather than starting from a cookbook and then assembling the ingredients. I'll still use some ingredients that are not from Ireland, and some products, but am happy to change my emphasis and purchase somewhat.
A couple of months ago, I was lucky to get some of the last Jerusalem Artichokes. Others had praised them as a super vegetable both to grow in your garden, and to eat. So I stuck two into the ground, and I think the plant that is now growing close to the spot has leaves that are very similar to what I found in a web search. No flowers yet, but I live in hope!
Back to Saturday. You may just about see from the pictures how large a space it is, and how high the ceilings are. While there was a constant stream of cars coming and going, it never felt too busy, or as I have started to call it, "peoply." Keeping your distance was easy. There is a fridge, then a large table and a number of baskets filled with what's on offer.
They were out of tomatoes and potatoes. Some people seem to come early to make sure they get what they want! Otherwise, the choice was plentiful.
You walk around anti-clockwise with one of their nice large wicker baskets, pick what you want (don't touch unless you buy it!), then check out (perspex glass in place). You can pay contact less, my preferred way to pay since even before Covid.
I went home with kale (so tasty – why did I only try it first this year?), chard (new to me), spinach, kohlrabi (which I love nibbling raw, cut into thick slices), zucchini and cauliflower.
And of course one of Freda's teas, complemented by some of Dunany's finest flours, rye, fine wholewheat and coarse wholewheat. I'll be back!
This series will continue as my time allows. Next on my list are Paddy Byrne's Organic Farm, Skerries Farmers' Market, Gerry's, Granny Rosie's Farm – and I'm open to suggestions for more!